The Arts have the capacity to engage, inspire and enrich, and at Calwell High School all students have the opportunity to study a wide range of arts courses, including Dance, Drama, Media, Music and Visual Arts. Our team of highly qualified and dedicated teachers endeavour to support students to become confident and creative individuals. We provide pathways through high school for students who wish to enrich their learning through the development of arts ideas, skills and processes and creative and critical thinking.
Year 7 and 8
Year 7 and 8 students rotate through a range of Art subjects in term-long units including Visual Arts, Music, Drama and Media. These subjects are banked together with Design and Technology courses including Wood and Material Design, Food Studies and Digital Technology. During these courses, students are involved in the hands on creation of their own projects and performances. They are designed to give students an introduction to the subject and to allow for further exploration of topics in future studies.
In year 7 and 8 students have the opportunity to select either Dance or PE as their choice for physical activity. Each Dance course includes a required health unit and gives students multiple opportunities for performances throughout the year.
Arts Opportunities
Throughout the year, the Arts program provides opportunities for students to participate in a range of activities. In additional to external excursions and performance opportunities, such as Step Into the Limelight and Ausdance Youth Dance Festival, Calwell High School also presents our own exhibitions and concerts in the form of The Archies Exhibition, Showcase, Arts Extravaganza and Art Collective.
Year 9/10 Elective Program - Arts
The senior elective program is broad and varied to accommodate student interests. The courses on offer include:
Visual Arts

Foundation Art
Painting and Drawing
Sculpture and Public Art
Ceramics
Printmaking
Contemporary Art

Music

Film Music
Music and the Media
Music Performance
Rock and Pop Music
Australian Music
Music Industry

Media

Film and TV studies
Digital Narratives
Media and Society

Drama

Exploring Improvisation
Theatre for Young People
Acting for Stage and Screen
Realism and Beyond

Dance

Dance Ensemble 1-4
Choreographic Workshop
Choreography and Technique

Cross-Curricular
Filmmaking (Drama/Media)
Technical Theatre (Art/Drama/Dance/Media/Music)
Graphic Design (Art/Media)
Photography 1-2 (Art/Media)
Dance Program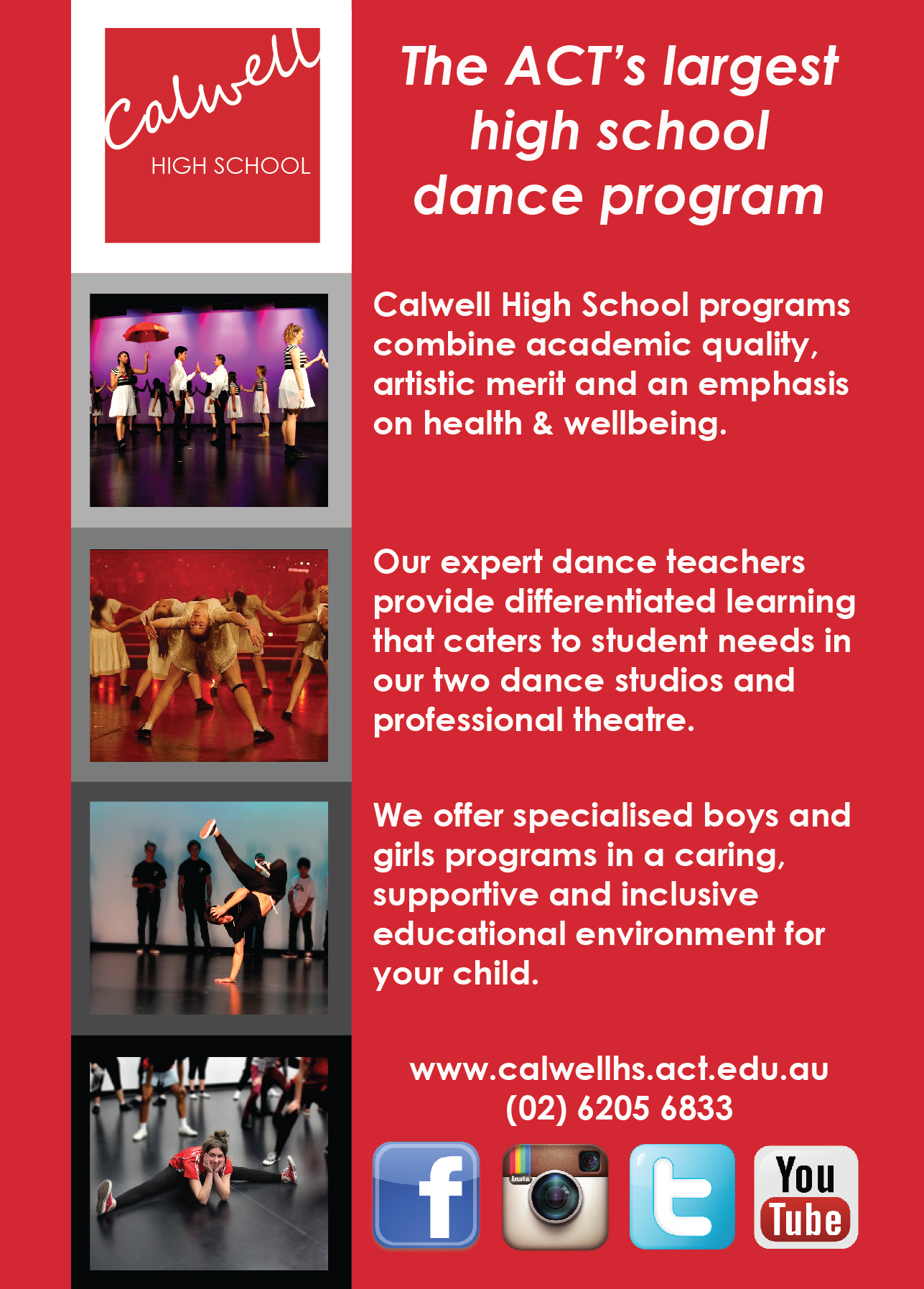 Dance Information for Students
Requirements for Dance Classes
Dance students are required to arrive to classes wearing appropriate clothing and prepared to dance for all practical lessons.
Appropriate clothing for dance:
School polo shirt
Tracksuit pants or leggings
Light weight sneakers, dance shoes or bare feet as required
Clothing not suitable for dance:
Jeans or denim shorts
Tight, non-stretch pants of any kind
Sleeveless t-shirts
Dress shoes, ballet flat style shoes
Safe Dance
Calwell High School follows safe dance practices at all times. Safe dance practices prepare the body for dance and focus on injury prevention.
The school provides trained dance teachers and dance rooms with appropriate flooring. Students are required to complete safe dance courses and must at all times comply with teacher instructions regarding safe dance practices.
For further information please refer to the Ausdance Website.
Dance Events and Performances
Students of dance have the opportunity to participate in and perform at a variety of events and performance throughout the school year, including:
Ausdance Youth Dance Festival
Limelight
Battlegrounds Hip Hop Championships
Guest artist performances at BomFunk Dance Studio Concerts
Calwell High School Open Night
Calwell High School Band Program
Calwell offers an exciting band program designed to cater for beginners through to the more advanced. We offer two classes for Year 7 students, Beginner band and Intermediate band. Beginner band is the perfect opportunity for anybody interested in learning the following instruments: flute, clarinet, alto and tenor saxophone, trumpet, French horn, trombone, euphonium, tuba, bass guitar or percussion. As a year-long course, students are prepared to enter the Intermediate band class in the following year.
Intermediate band class, also a year-long course, welcomes all students who have played a concert band instrument during Years 5 and 6. Intermediate band is comprised of students in Years 7 and 8 and performs regularly at eisteddfods and community engagements, as well as attending workshops and performances. The class provides an important opportunity for students to discover just how far they can extend themselves as musicians while working in a team setting.
As of 2013, Calwell High School offers an additional program for our band students. Valley Schools Band is a combined schools band for students of the Tuggeranong Valley in Years 7 – 12 and their teachers. Rehearsing on Thursday afternoons from 3:30-5:00, it provides an extension program that has not previously been available within the Valley. Entry is through teacher recommendation.